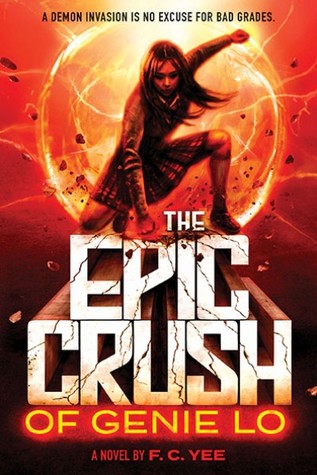 Genie Lo is one among droves of Ivy-hopeful overachievers in her sleepy Bay Area suburb. You know, the type who wins. When she's not crushing it at volleyball or hitting the books, Genie is typically working on how to crack the elusive Harvard entry code.
But when her hometown comes under siege from hellspawn straight out of Chinese folklore, her priorities are dramatically rearranged. Enter Quentin Sun, a mysterious new kid in class who becomes Genie's self-appointed guide to battling demons. While Genie knows Quentin only as an attractive transfer student with an oddly formal command of the English language, in another reality he is Sun Wukong, the mythological Monkey King incarnate—right down to the furry tale and penchant for peaches.
Suddenly, acing the SATs is the least of Genie's worries. The fates of her friends, family, and the entire Bay Area all depend on her summoning an inner power that Quentin assures her is strong enough to level the very gates of Heaven. But every second Genie spends tapping into the secret of her true nature is a second in which the lives of her loved ones hang in the balance.
---
My Rating: ★★★★ – 4 stars
Welp. Nothing like having your personhood denied in the morning to start off the day right.
After attempting to start this review many different ways, and deleting every single one of them, I'm going to start this with the only way I seem to be capable of:
*claps very loudly*
I did not expect to like this book as much as I did. In fact, I expected to be kept vaguely interested throughout the story, but not really get involved in it.
But guess what happened?? My expectations did not become a reality, and I could not be happier! <– The one time I'll ever say this. Continue reading "The Epic Crush of Genie Lo (The Epic Crush of Genie Lo #1) by F.C. Yee // I'm In Love *heart eyes*" →